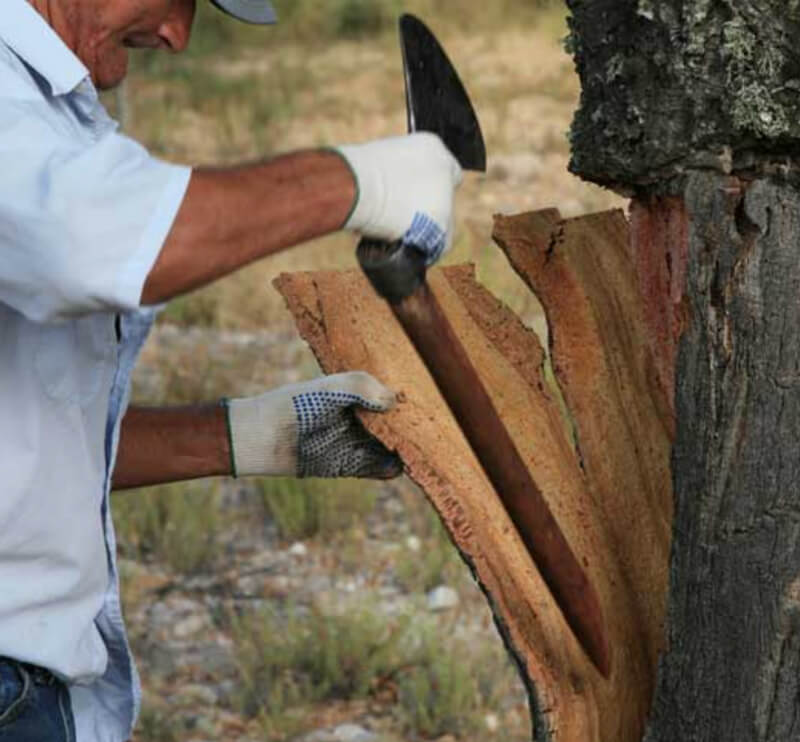 Cork: a unique sustainable material
This website aims to provide information about the uses and versatility of this unique environmentally friendly material and help people make contact with suppliers of cork and cork products in the UK.
The Cork Industry Federation is a not-for-profit association of companies & businesses involved in the importation, manufacture and distribution of cork products in the UK and for export. The Federation seeks to uphold quality standards within the industry and to promote the use of cork in its many different applications.
Feel free to contact the federation with any enquiries. These will be circulated to the relevant members.
Natural, renewable, eco-friendly
A natural and renewable product
Because of its unique properties: elasticity, lightweight, impermeability, insulation and resistance to vibration, cork has many uses.
However, it is the production of stoppers for the wine and spirits trades that provides the main revenue that sustains cork forests in Portugal, Spain and other countries around the Mediterranean.
Cork is one of nature's mysteries: a unique material that renews itself every nine years from the bark of a special oak tree.
Cork oaks are not harvested for their bark until they are about 25 years old.
After this harvesting takes place every nine years (minimum legal period).
The first harvest suitable for making bottle stoppers is not obtained until the third stripping i.e. when the tree is at least 40 years old. An average cork oak will live for 160 to 180 years and produce 15 strippings during its productive life.
Perhaps because cork has been used for so many years, we forget what makes this natural product superior to any other material as an effective closure for a bottle of wine. Each cubic centimetre of cork contains approximately 40 million cells containing microscopic amounts of air composed of nitrogen and oxygen.
This unique structure allows a cork to be compressed on a bottling line and then instantly revert to 85% of its original size to form an airtight seal. No man-made material has this capability
The Portuguese cork producer Amorim has published a report comparing the environmental impacts and energy used to produce aluminium, plastic and cork materials and the carbon emissions involved.
Cork oak forests and the natural products derived from them are a major carbon sink and have an important role in sustainable development. The crucial role of cork in carbon dioxide retention, preserving biodiversity and combating desertification was highlighted.
In comparison, the mining and extraction of non-renewable resources such as petrochemicals to make plastics and bauxite (used to produce aluminium) have very significant and potentially negative impacts on ecosystems.
Cork is impermeable to liquids and gases and has a low conductivity of heat, sound and vibration making it an ideal insulation material and shock absorber.
The unique cellular structure of cork means that more than 50% of its volume is air, so it is also very light in weight and can float.
Another unique characteristic of cork is that when it is compressed, it does not expand in another direction which is why a natural cork is easier to remove from a bottle and why it is less likely to leak than plastic materials.
Cork is 100% recyclable and requires very low energy consumption since a significant part of the energy required for production is satisfied using biomass.
The Cork oak is an ancient tree species that has been growing around the Mediterranean Sea for millions of years.
The hot dry climate particularly suits this special type of oak tree (Quercus Suber) which is unique in allowing its bark to be removed from the mature tree every nine years.
The tree then regrows its bark while absorbing more CO₂ through photosynthesis.
Harvesting of cork takes place in the summer months (mid May to August) in the cork forests (called Montados in Portugal and Dehesas in Spain).  Today 50% of the world's cork comes from Portugal and 30% from Spain.
The forest where the cork oak grows, is home to a wealth of natural biodiversity, including wildlife, grasslands and diverse flora. There is also a wide variety of animal species and plants that form part of the food chain centred around the cork oak.
For more information visit: apcor.pt/en/montado/biodiversity